JigSpace is in the driver's seat
November 9, 2023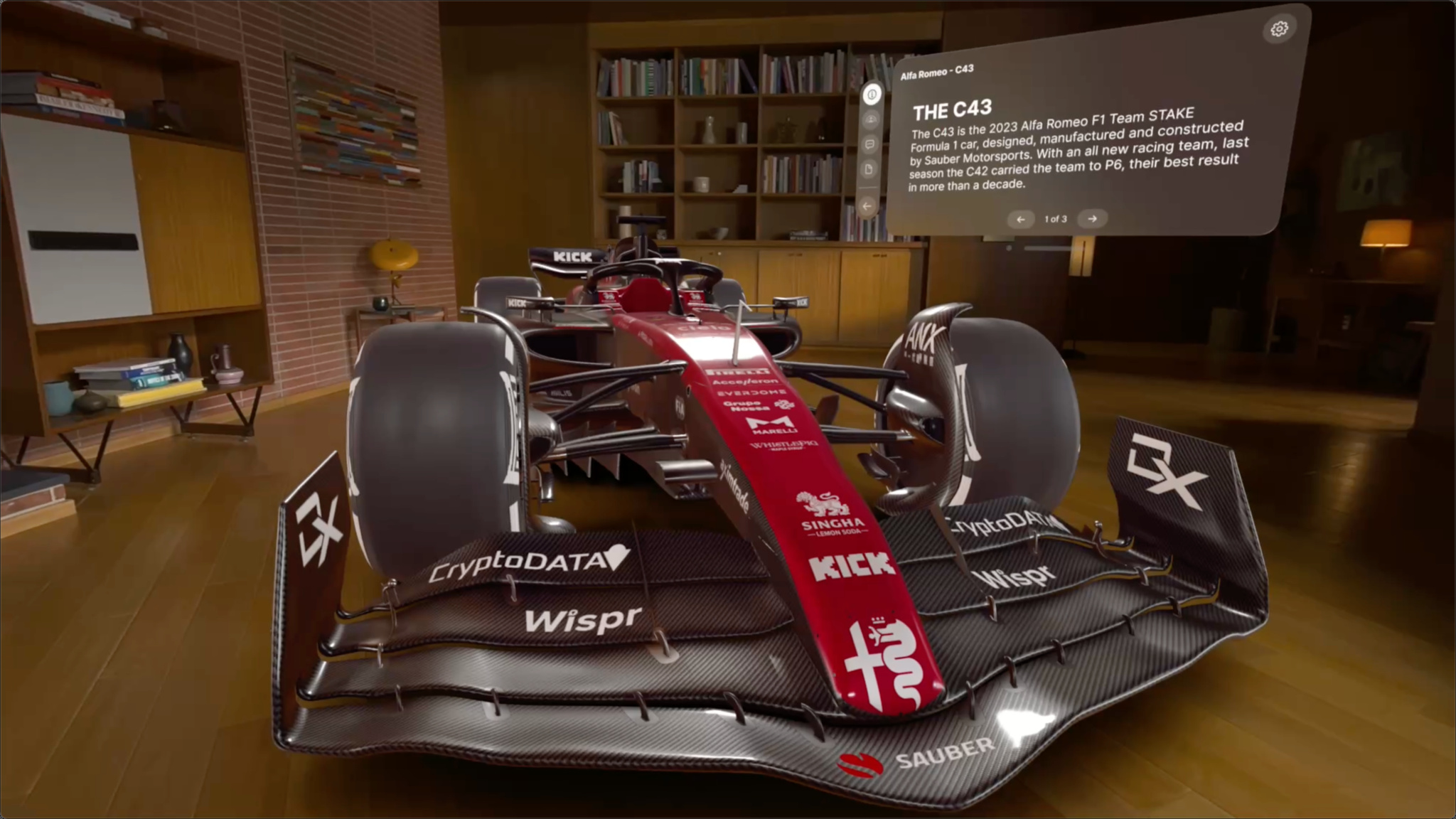 APPLE VISION PRO APPS FOR ENTERPRISE
It's one of the most memorable images from JigSpace's early Apple Vision Pro explorations: A life-size Alfa Romeo C43 Formula 1 car, dark cherry red, built to scale, reflecting light from all around, and parked right in the room. The camera pans back over the car's front wings; a graceful animation shows airflow over the wings and body.
Numa Bertron, cofounder and chief technology officer for JigSpace — the creative and collaborative company that partnered with Alfa Romeo for the model — has been in the driver's seat for the project from day one and still wasn't quite prepared to see the car in the spatial environment. "The first thing everyone wanted to do was get in," he says. "Everyone was stepping over the side to get in, even though you can just, you know, walk through."
The F1 car is just one component of JigSpace's grand plans for visionOS. The company is leaning on the new platform to create avenues of creativity and collaboration never before possible.
Bertron brings up one of JigSpace's most notable "Jigs" (the company term for spatial presentations): an incredibly detailed model of a jet engine. "On iPhone, it's an AR model that expands and looks awesome, but it's still on a screen," he explains. On Apple Vision Pro, that engine becomes a life-size piece of roaring, spinning machinery — one that people can walk around, poke through, and explore in previously unimaginable detail.
"One of our guys is a senior 3D artist," says Bertron, "and the first time he saw one of his models in space at scale — and walked around it with his hands free — he actually cried."
We made that F1 Jig with tools everyone can use.

Numa Bertron, JigSpace cofounder and chief technology officer
Getting there required some background learning. Prior to developing for visionOS, Bertron had no experience with SwiftUI. "We'd never gone into Xcode, so we started learning SwiftUI and RealityKit. Honestly, we expected some pain. But since everything is preset, we had really nice rounded corners, blur effects, and smooth scrolling right off the bat."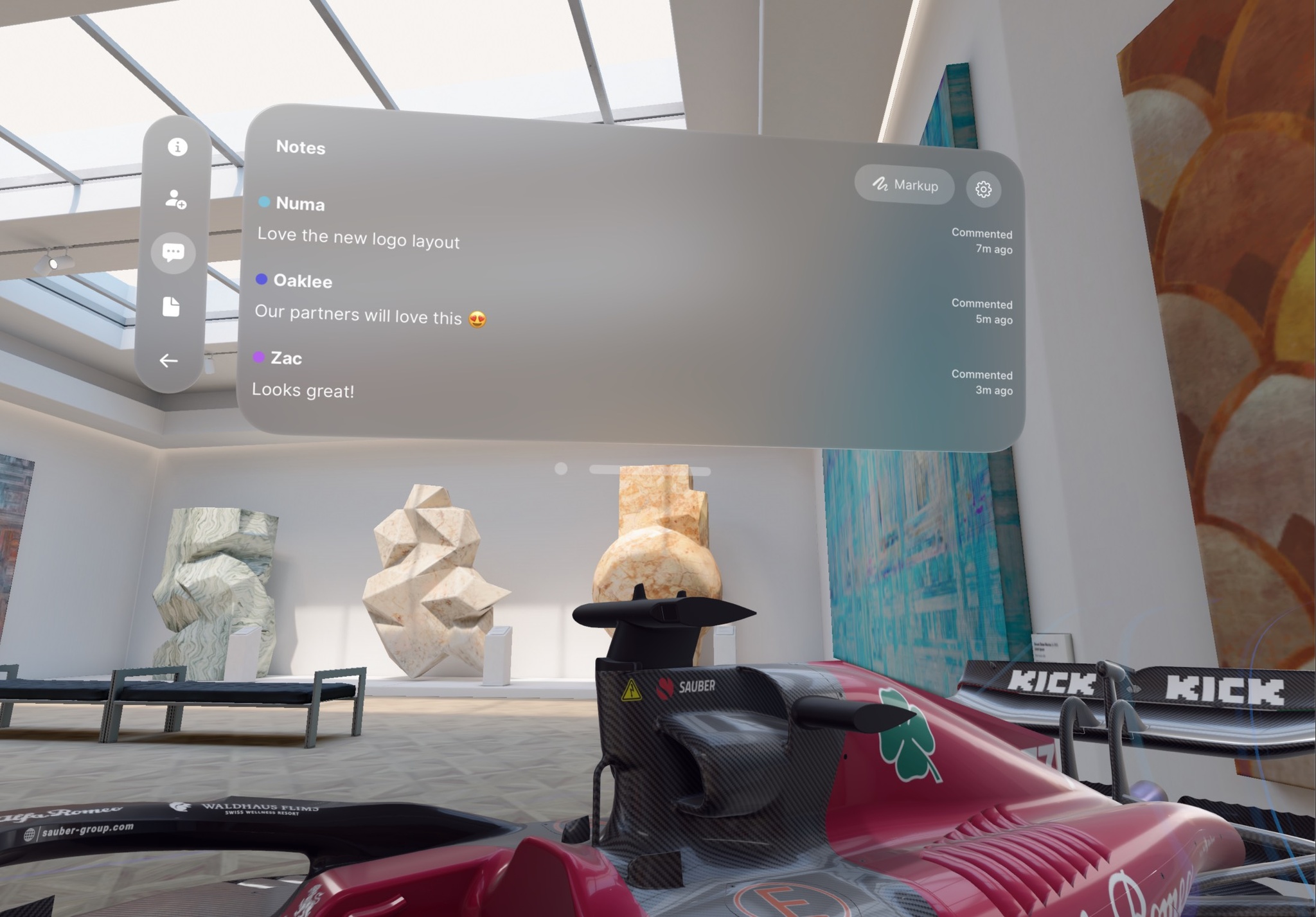 For people who've used JigSpace on iOS, the visionOS version will look familiar but feel quite different. "We asked ourselves: What's the appropriate size for an object in front of you?" asks Bertron. "What's comfortable? Will that model be on the table or on the floor? Spatial computing introduces so many more opportunities — and more decisions."
In the case of the F1 example, it also offers a chance to level up visually. "For objects that big, we'd never been able to achieve this level of fidelity on smaller devices, so we always had to compromise," says Bertron. In visionOS, they were free to keep adding. "We'd look at a prototype and say, 'Well, this still runs, so let's double the size of the textures and add more screws and more effects!'" (It's not just about functionality, but fun as well. You can remove a piece of the car — like a full-sized tire — and throw it backwards over your head.)
The incredible visual achievement is matched by new powers of collaboration. "If I point at the tire, the other person sees me, no matter where they are," says Bertron. "I can grab the wheel and give it to them. I can circle something we need to fix, I can leave notes or record audio. It's a full-on collaboration platform." And it's also for everyone, not just F1 drivers and aerospace engineers. "We made that F1 Jig with tools everyone can use."
Read more
Businesses of all kinds and sizes are exploring the possibilities of the infinite canvas of Apple Vision Pro — and realizing ideas that were never before possible.
PTC is uniting the makers
Apple Vision Pro offers PTC an opportunity to bring together components of the engineering and manufacturing process like never before.
View now